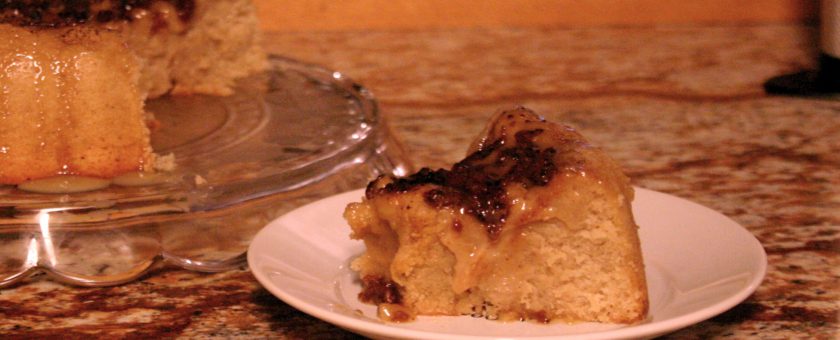 2014 / Nov / 16
The Bourbon & Butterscotch Zombie Slayer Bundt
This is my fourth year observing National Bundt Cake Day by baking an original recipe cake, and as there has been in the three years prior, there is a near & dear emotional tie to the cake I've chosen.
The first year saw my Tiramisu Bundt, a farewell baking as one of the last things I made in the tiny apartment kitchen that was home for almost fifteen years before we bought a house. The second year gave me the Avenging Dark Chocolate Bacon Scourge Bundt of Doom, vengeance for a wrong done to a dear friend by a food blogger during the previous NBCD festivities, and also to vent some of my frustration at the 2012-13 NHL lockout. Last year, I honored through Bundt a precious girl who I only knew for a short time but who will live in my heart forever, Chiquita the Pitbull.
This year, I had no idea what I wanted to bake, so I put out a call on my Facebook page for suggestions, requests, etc. And while I deeply appreciate every single person who takes the time out of their Internet life to stop by my page (seriously, you gals & guys all rock), I was particularly grateful that the first person who chimed in with a request was my dear friend Paul who, in addition to all his other amazing qualities as a human being, adopted Chiquita and gave her the best, most loving home she could have ever hoped for during the last stage of her not-always-easy life.
Paul requested a Bundtification of butterscotch pudding. I added bourbon because I like bourbon and it goes well with butterscotch. And I dubbed the end result the Zombie Slayer because this is Paul's cover photo on his Facebook profile, a responsibility he takes quite seriously.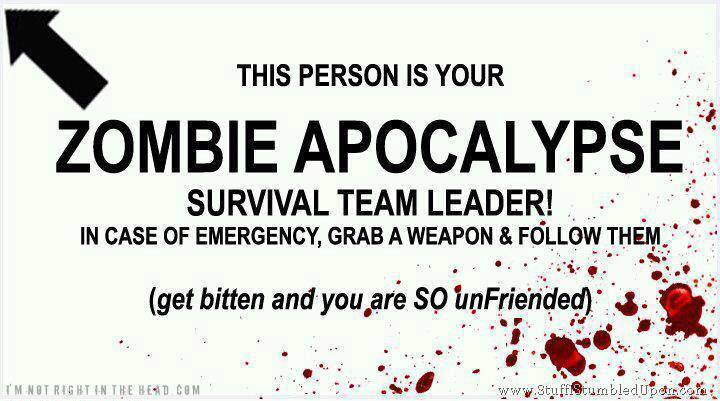 Paul, my friend, this is for you. Because I love you even if you are a Red Wings fan.
THE ZOMBIE SLAYER BUNDT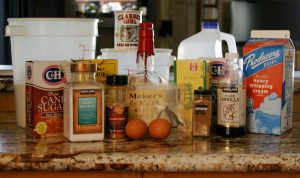 FOR THE PUDDING FILLING
1 cup dark brown sugar, packed
1/4 cup cornstarch
1 tsp salt
1 vanilla bean
2 cups milk
1 cup heavy cream
3 egg yolks, beaten
1/4 cup unsalted butter
1 tbsp bourbon
1- In a small bowl, mix the brown sugar, cornstarch and salt together with a fork until they're well blended. The cornstarch makes it really easy to spot & remove your brown sugar rocks, so do that. You don't want rocky pudding.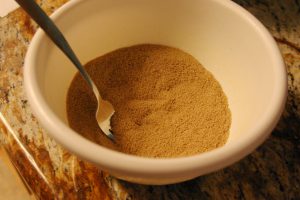 2- Split & scrape your vanilla bean into the brown sugar mix. I once heard a rumor about some woman who waited to start working with her vanilla bean until her dairy was already on the stove and rapidly coming to a boil. Her vanilla bean was just a smidge dry and decided to be stubborn, and things got really hectic really quickly. So don't be like that woman I once heard that rumor about when she was making this cake that I just made up today, okay?
3- Once your vanilla bean is added to your brown sugar mixture like a sane person would do it, add 1/4 cup of the milk to the bowl and stir until you have a loose paste.
4- Pour the remaining milk and the heavy cream into a large saucepan, and bring to a boil over medium-high heat. While it's heating is a good time to separate your eggs, beat the yolks in a small bowl, and stash the whites in the fridge for that superhealthy breakfast you're going to have tomorrow to compensate for all the cake you're going to eat tonight.
5- When the milk/cream mix is boiling, add the brown sugar mix, return to a boil and cook for one minute, stirring constantly.
6- Remove the milk mixture from heat. Quickly stir about half a cup of the milk mixture into the egg yolks to temper them, add the yolks to the saucepan, stir well, return to heat and cook for one minute, stirring constantly.
7- Remove from heat. Add the bourbon and butter and stir until the butter is melted. Pour into a bowl, cover, and refrigerate for about an hour to cool it down before you start making the cake, it needs some time to thicken or it will slop all over the place while you're trying to get it in a nice neat circle atop your cake batter.
8- Don't even pretend you're not going to lick the spoon. And the saucepan.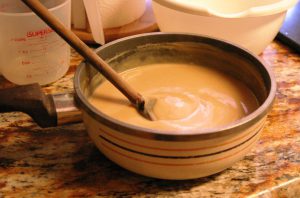 FOR THE CAKE
2 3/4 cups flour
1 1/2 cups sugar
1 1/2 tsp baking powder
1 tsp salt
1/4 tsp ground cayenne
1 tsp Chinese Five Spice
1 cup unsalted butter, softened
4 eggs
1/2 cup milk, at room temp
1/2 cup heavy cream, at room temp
1 tsp vanilla extract
1 tbsp bourbon
1- Preheat oven to 325, and prep Bundt pan by either greasing & flouring or nonstick-spraying, depending on how lazy you feel.
2- Combine milk and heavy cream in a measuring cup and set aside.
3- Combine flour, salt, baking powder, cayenne, and Chinese Five Spice in a medium bowl with a fork or whisk until well blended, and set those aside too. Set them near the dairy so nobody gets lonely. Lonely ingredients are sad ingredients, and sad ingredients make sad cake. Nobody wants that. Do you want that? No. Nobody does.
4- Break out the mixer. In a large bowl, beat the butter on medium until smooth. Add the sugar about 1/4 cup at a time and, scraping the sides of the bowl as necessary, beat for about 5 minutes until it's nice and fluffy.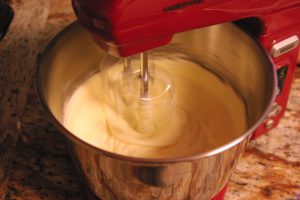 5- Still mixing on medium, add the eggs one at a time, beat for about 30 seconds after each, then add the vanilla and bourbon and beat for another minute until everything is combined and smooth and delicious-looking.
6- Drop the mixer speed down to low. Retrieve your dairy and dry ingredients from wherever you set them aside. Nod and smile as they share all the wonderful topics of conversation they covered whilst on their set-asideage. Assure them it's all very wonderful but the time has come for them to become part of a larger whole. Starting and ending with the dry mixture, alternate adding dry & dairy to the mixing bowl, beating only until blended after every addition, scraping the sides of the bowl and beaters as necessary.
FOR THE PUTTING-ALL-TOGETHER OF IT
1- Retrieve your pudding from the fridge. It likely won't be completely firm, but as long as it's partially set, it will be fine for the purposes of filling the cake. Pour it into a gallon-size plastic bag and close the top. Have your kitchen shears or clean food-safe scissors handy, you're going to have to work a bit quickly very soon.
2- Retrieve your prepared Bundt pan, and spoon slightly more than half of the cake batter into it.
3- Here's where it gets interesting and you're going to have to move faster than you have been (she says, after living the joys of pausing throughout this process to take pictures; I reeeally don't recommend that.). Using a tablespoon, create a trench for the pudding in the center of the batter. You're going to have to push the batter up the sides of the pan a bit to accomplish this, and all that wonderful non-stickery we opened the cake-making part of the recipe with is going to work against you as the batter tries to slide back down the side of the pan almost as soon as you've pushed it up, so as soon as you have a discernible trench, grab your plastic bag of pudding, smoosh the pudding away from one corner, cut that corner open, and pipe the pudding into the trench as quickly and neatly as you can.
4- You're NOT going to fit all of the pudding into the cake. You're going to have extra pudding. Probably about a cup. Oh no. Extra pudding. You can cry about that later.
5- Once you have filled your cake trench with pudding, top the pudding with batter carefully by spooning batter around first the outside edge of the pan, then the center, blending it over the top of the pudding and making sure the edges of the pan are sealed while pressing down as little as possible. Pressing down will cause the pudding to splort out of the nice little cake trench you put so much time and effort into making. Don't let pudding splort undo all the good you have done today.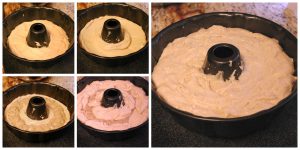 6- Put the cake into that nice preheated oven and bake for 60 minutes. When it's done, it will look like this, and smell even better. Dear eight pound six ounce newborn baby Jesus does this smell good. Just… stand there and inhale for a minute.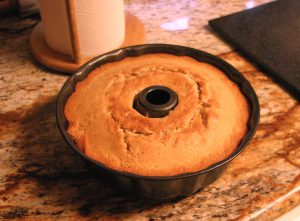 7- Allow the cake to cool in the pan on a cooling rack for about 15 minutes, then turn it out onto a cake plate.
8- Realize that you really needed a more substantial pudding trench and slightly less pudding in it because the top of your cake has gotten saturated with pudding and disintegrated in the turning-out process. Drop a few F-bombs, slam a few utensils, realize there's nothing you can do about it now.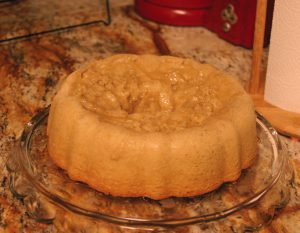 Or is there…?
We have a saying in my family: When faced with adversity, kill it with fire.
FOR THE KILLING OF ADVERSITY WITH FIRE
2 tbsp flour
2 tbsp dark brown sugar
2 tbsp butter
1 tsp ground cayenne
1 tsp Chinese Five Spice
Fire
1- In a small bowl, blend all ingredients except fire with a pastry blender or fork until you have a coarse crumble.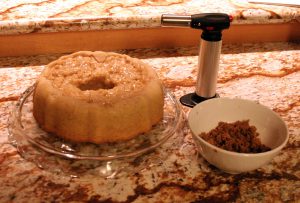 2- Arrange the crumble atop your aesthetically-questionable but still awesome-smelling and going-to-be-great-tasting cake, adding a bit extra to the most pudding-hampered and structurally weakest areas.
3- Torch the shit out of it until it totally looks like this is what you planned all along, the flour is toasted, and you have brûléed enough sugar to reestablish sufficient structural integrity on the top of your cake to support a light layer of glaze.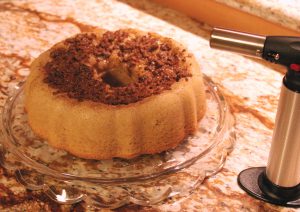 4- Let that all cool off a bit while you make the glaze.
FOR THE GLAZE
2 tbsp butter
2 tbsp powdered sugar
3 tbsp bourbon
1- In a small saucepan over medium heat, melt the butter.
2- Add the powdered sugar, increase heat to medium-high and stir until the sugar is dissolved and the mixture just starts to bubble.
3- Add the bourbon one tablespoon at a time, stirring constantly and allowing the mixture to get back up to bubbling temp after each before adding the next, and while NOT leaning over the saucepan at such an angle that you get a blast of bourbon fumes right up your nose when you add each tablespoon. Unless you're into that sort of thing, in which case absolutely do that. When all the bourbon has been added, continue the bubbling and stirring until the mixture has thickened slightly.
4- Remove from heat and continue stirring until the bubbling has stopped, and then for about a minute more.
5- Drizzle glaze over the top of your rebuilt cake. Let cool before serving.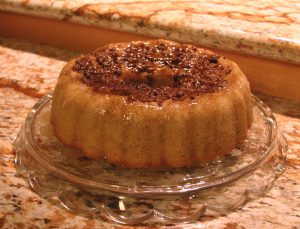 NOTES FOR NEXT TIME
All was far from lost here. This actually tasted really good even if it did in fact end up looking more like a slain zombie than a tribute to the zombie slayer. So, to perfect it next time:
1- You know your oven has been acting up. You need to fix that ASAP.
2- The extra spices in the "killing adversity with fire" stage of preparation worked really well to balance the sweetness of all the butterscotch and bourbon. Since we do not plan on repeating that step in future bakings, double the amount of cayenne & Chinese Five Spice in the batter to compensate.
3- Less pudding. I really hate it when I have to put words like "less" in front of words like "pudding" but that's just how it has to be. I tried to put too much pudding in the cake and I paid dearly for my gluttonous greed. Cutting the recipe by 2/3 will probably net the right amount of pudding. Or make the full amount and have a lot of extra pudding. Oh no. Extra pudding. So sad with the sadness now.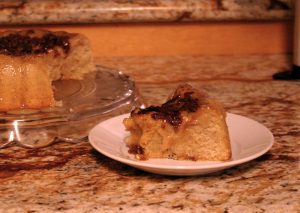 see all the Bundt posts
return to The Blog

I was here and read this!