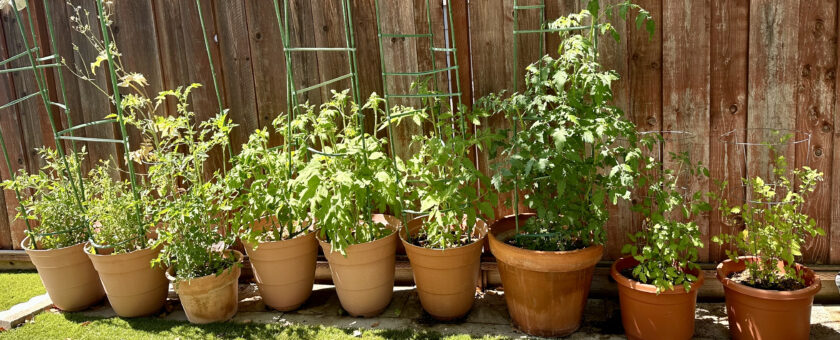 2023 / May / 19
The 2023 Summer of 1000 Tomatoes
If memory serves, 2017 was the first garden year I set the goal of someday having a Summer of 1000 Tomatoes. In 2019, I harvested in the mid 600s. Not a bad crop for a small container garden in a big city, but I still had hope for more.
2020 was not more. 2021 was slightly better than the year before but still not great. In 2022, from a total of 10 plants, I got a total of… 4 tomatoes. I hesitated to say aloud that 2023 had to be better because no, 2023 could easily net 3 tomatoes if I jinxed it.
But as I type this, my plants are already flourishing in a way they did not last year. I have 12 varieties, sourced from 2 places; 3 from our local Grocery Outlet, and 9 started from seed in my mom's greenhouse. And with my 12 varieties of tomatoes, I once again have hope.
I will be updating this post with daily harvests when the harvesting begins. Meanwhile, please allow me to introduce this year's lineup.
From left to right: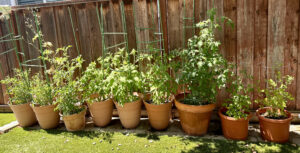 BIG RAINBOW (source: Grocery Outlet)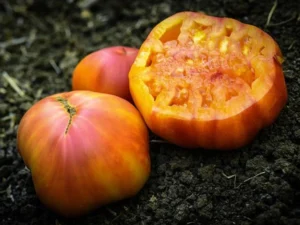 Mr. Stripey is my absolute favorite tomato of all time. However, after the third time that someone claimed to be sending me Mr. Stripey seeds and/or plants that proved to not be that type at all, I resigned myself to either the definition of Mr. Stripey having changed or it just no longer existing. Big Rainbow is a very similar tomato, a large slicer with an orange & yellow exterior and mottled flesh, and Big Rainbow is much easier to find.
GREEN ZEBRA (source: Grocery Outlet)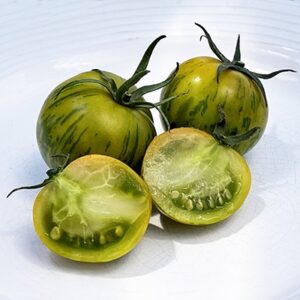 Another of my all-time favorites, Green Zebra is a smaller slicer that looks like it's not ripe when it is and tastes like a tomato and a lime had a baby. I am always very excited when I can find this plant.
BLACK CHERRY (source: Grocery Outlet)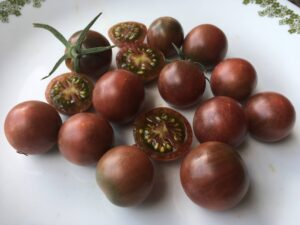 A dark purplish brownish red cherry tomato with a very rich, almost wine-like flavor.
CLASSIC BEEFSTEAK (source: my mom's greenhouse)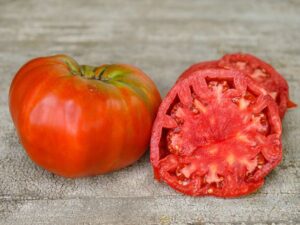 Pretty self-explanatory. Although it may or may not be worth mentioning that my mom made a little tag for the plant that just says "Classic Beef" and every time I see it I hear Christian Slater saying it.
PINK JAZZ (source: my mom's greenhouse)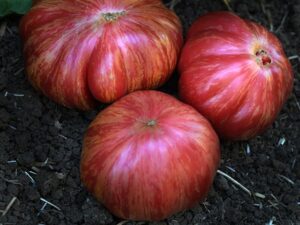 First time growing these. They're a large pink slicer with yellow stripes, rumored to have a sort of peach flavor. Garden Peach being another of my all-time favorite tomatoes, I am hoping this rumor proves true.
LARGE BARRED BOAR (source: my mom's greenhouse)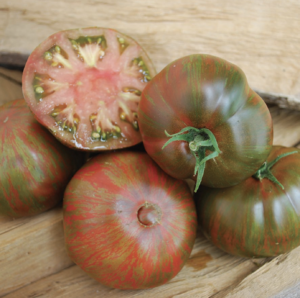 A somewhat flattened slicer, dark red with green stripes. Mom's garden produces these by the pallet, hoping I have similar luck.
SUNGOLD (source: my mom's greenhouse)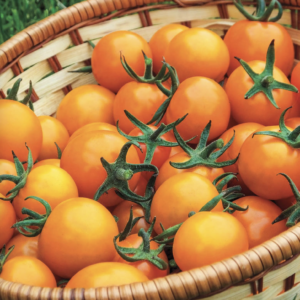 Half of these don't even make it into the house and I'm not even a little bit sorry. They taste like a Rainier cherry and a tomato had a baby and I eat them like candy right off the plant.
RIESENTRAUBE (source: my mom's greenhouse)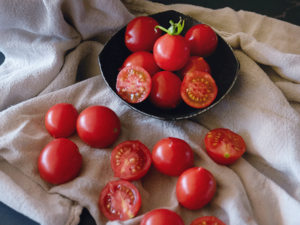 A German heirloom red cherry tomato whose name translates to "giant bunch of grapes". First time growing these, looking forward to giant German bunches of tomatogrape snacks.
SPOON (source: my mom's greenhouse)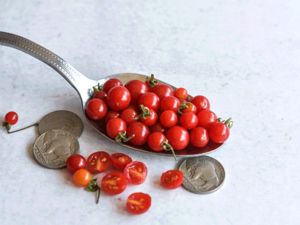 They call them spoon because they're so tiny you serve them by the spoonful and I'm already crying because they're so wee and precious and I haven't even seen them yet.
And from left to right on the other side of the shade tree because I ran out of sunny spots and couldn't keep all the tomato plants together: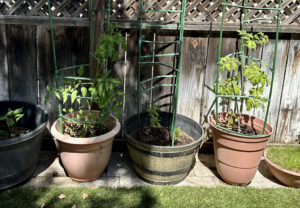 SOLAR FLARE (source: my mom's greenhouse)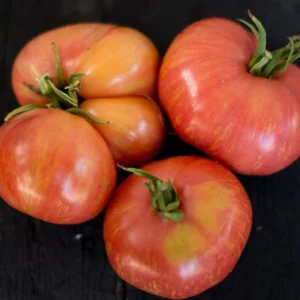 A semi-sweet light red slicer with yellow stripes and spots. Seeing the different patterns that form on these is almost as much fun as eating them.
NORWOOD MEINERS (source: my mom's greenhouse)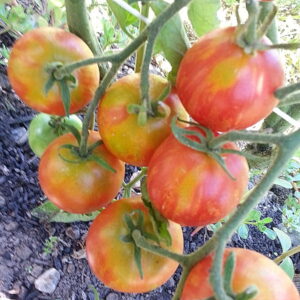 Named for the gardener & historian who first grew them when he thought he might be growing Beauty Kings which are very similar to Mr. Stripey, these are pretty much the cherry tomato version of Mr. Stripey which makes me very happy.
GOLD MEDAL (source: my mom's greenhouse)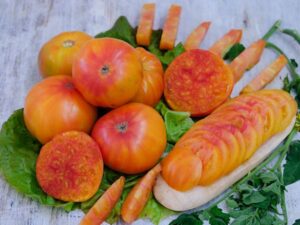 Very large, very sweet, very pretty yellow & pink slicers that routinely weigh over a pound each. One of these and a piece of toast can be lunch. Really looking forward to that.
THE COUNT

Currently we have harvested 632 of our hopeful 1000 tomatoes.

I was here and read this!