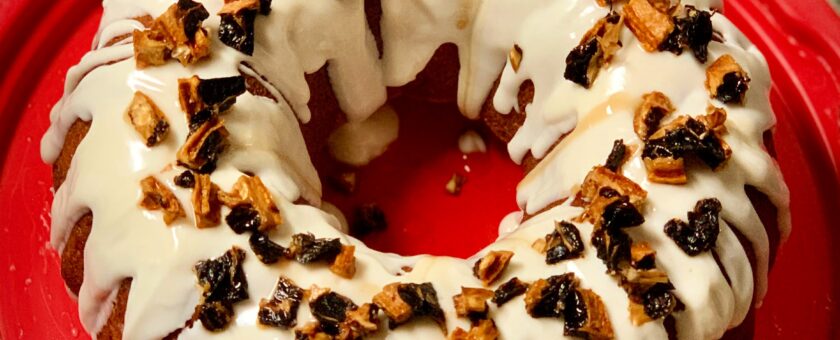 2022 / Nov / 16
The Rusty Nail Bundt
This was my 12th time observing National Bundt Cake Day by creating an original recipe cake. I woke up in the wee small hours of the morning of November 11 realizing I had no idea what I was going to bake, and almost immediately thereafter knowing this was the cake.
I'd make Bundt versions of cocktails before with varying degrees of success. And I've never actually had a Rusty Nail, but they were my dad's favorite. He hadn't had one in years, not really being much of a drinker, but a few months before he died, he asked for one, so my mom bought a bottle of whisky and a bottle of Drambuie, both of which found there mostly full way to our liquor cabinet after he was gone.
So, Dad, if you're anywhere with decent wifi and a way to read my blog, this one's for you.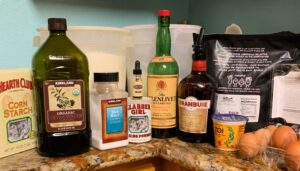 FOR THE CAKE
2 1/2 cups flour
2 tsp baking powder
1 tsp salt
1 tbsp cornstarch
1/4 cup dried lemons, ground
4 medium eggs
1 cup extra virgin olive oil
1/2 cup Scotch whisky
1/4 cup Drambuie
10-12 drops lavender bitters (optional but nice)
1 5.3 oz carton Greek yogurt (I used honey flavored but plain will work)
FOR THE WHISKY SOAK
1/2 cup Scotch whisky
1/4 cup sugar
1 tbsp lemon juice
FOR THE GLAZE & GARNISH
2 cups powdered sugar
1/8 tsp salt
1/2 cup Drambuie
2-3 dried lemon slices
A NOTE BEFORE BEGINNING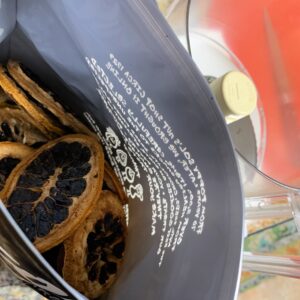 I used dried lemon slices in this recipe because to my mind they are the best of all possible dehydrated lemon options, combining the tartness of the fruit with the bitterness of the pith and the concentrated flavor of the zest. I use them in baking and cocktails and on fish and I love them. If you do not have or do not care to acquire dried lemon slices, you can use a couple of fresh lemons for this recipe as follows: Use the zest in the cake. Use the juice in the whisky soak. For the garnish, chop up some of the fruit, press out some of the juice, and dry the pieces on a cookie sheet in the oven for 10-15 minutes while the cake is baking.
MAKE THE CAKE
Preheat oven to 325°F and generously nonstick spray a 10 cup Bundt pan.
If you have a spice grinder, use that to grind your dried lemons. If not, break the slices into pieces, and pulse them along with half a cup of the flour in a food processor until there are no large discernible lemon chunks.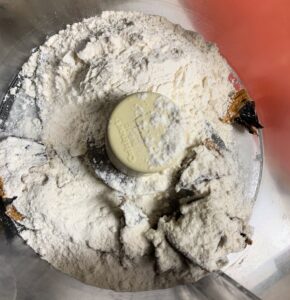 In a large mixing bowl, whisk together the flour, baking powder, salt, cornstarch, and ground dried lemons.
In a separate bowl lightly beat the eggs, then add the olive and whisk until it's slightly thickened. Add the sugar and yogurt, and whisk until smooth.
Combine whisky, Drambuie, and bitters in a measuring cup.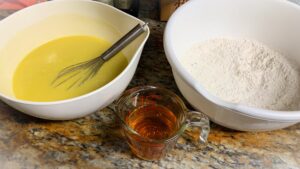 Add half the egg & oil mixture to the dry ingredients, stirring until mostly combined. Add whisky mixture, stir until combined, then add the rest of the egg & oil mixture and stir until smooth.
Pour ingredients into prepared pan, and bake for 55 minutes, until top is lightly browned and a toothpick comes out clean.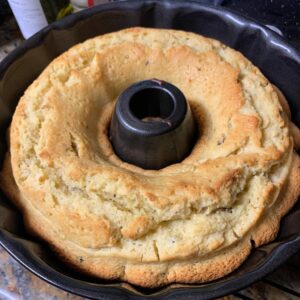 Turn pan upside-down onto a cooling rack and let it sit for about 10 minutes before removing the pan.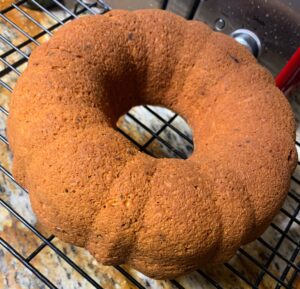 While the cake cools a bit
MAKE THE WHISKY SOAK
Combine all 3 ingredients in a small saucepan, bring to a boil while stirring, then immediately remove from heat. Let it cool down to very warm, then set aside about 2 tbsp before you start brushing it on the cake.
You want to really give the cake a good soak. I started on the outside edges, then turned the cake over to soak the top, then turned it over to soak the edges again. Just really slop it on.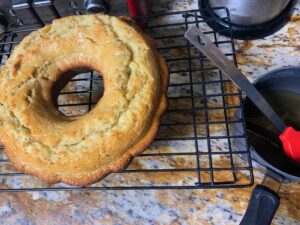 When you're done with that, while your cake is soaking up all that whisky goodness
MAKE THE GLAZE & GARNISH
Coarsely chop the dried lemon slices and put them in a small bowl with the 2 tbsp of whisky soak you set aside.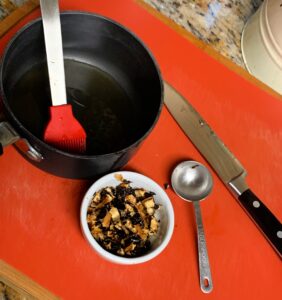 In a larger small bowl, combine the powdered sugar, salt, and Drambuie, stirring until smooth.
Drizzle the glaze over the top of the cake while the cake is still warm, and sprinkle your boozy soaked dried lemon pieces on top.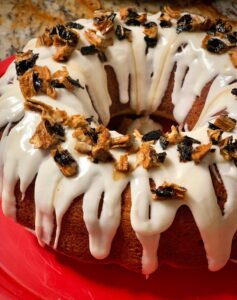 My NBCD posts are usually more pithy and light-hearted than this one is turning out to be. But this is the season of "the first ___ since dad died" and honestly, it's hard. So I'm going to eat cake and just let this be what it is; a thing I did to honor my dad's memory, that I'm sad he isn't here to enjoy with me.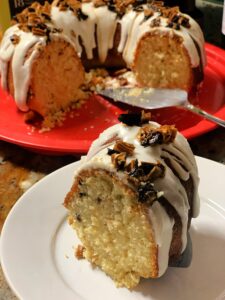 see all the Bundt posts
return to The Blog

I was here and read this!