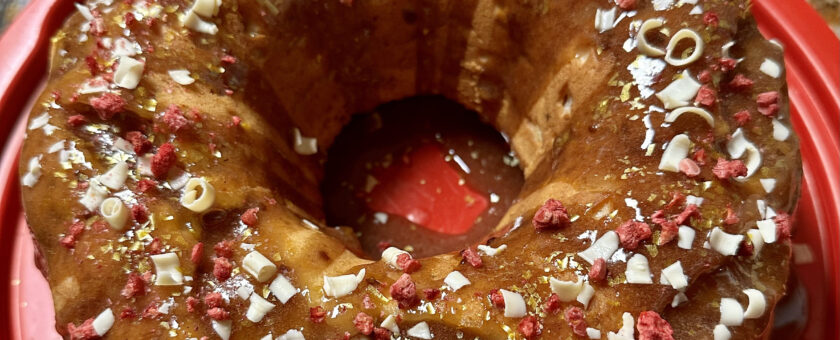 2023 / Nov / 18
The Peach Melba Bundt
November 15 of 2023 found me looking back over a streak that began on that same date in 2011, the first year I was aware of National Bundt Cake Day in time to do something about it.
Unfortunately, November 15 of 2023 also found me looking 5 days into the future, when my husband would have his second round of chemo.
The streak I began in 2011 almost ended in 2015. Technically, I baked my cake 2 days late, but considering I didn't want to do it at all, I counted a mere 2 days late as a win. The following paragraph is lifted from the writeup of that recipe:
"I didn't want to do it. And I had difficulty mustering any sincere belief that anyone would even notice if I did it or not. But what I did want was to have done it. I wanted to keep the streak alive, because I had to believe next year would be different and better, and I wanted to go into next year with my perfect record intact, not as someone starting over from scratch."
In 2023, with everything that had been going on, I was profoundly lukewarm vis-à-vis the baking of cake. I didn't actively not want to do it. And it's a rare day that I don't appreciate there being cake in the house. But I was tired. Deeper than that, I was weary. Things had been a lot and another task on the To Do list, even a fun task, was just… more.
But two things got me in the kitchen on November 15 of 2023. The first was Hubs reacting to chemo with sugar cravings the likes of which I had never seen in the almost 16 years we'd been together.
The second was my own words from eight years before. In 2023, more than ever, I really needed to believe that next year would be different and better, and I really wanted to greet that different and better November 2024 with my streak intact.
I'd had a good run of making Bundt versions of cocktails, but Hubs wasn't supposed to have alcohol. Then I thought about fine-tuning a matcha blueberry Bundt recipe I'd first made during Lockdown 2020, but caffeine intake was another thing we were closely monitoring. So I looked in the fridge to see what needed to be used soonest, saw a tub of ricotta and an open jar of peaches, and came up with this.
THE PEACH MELBA BUNDT
FOR THE CAKE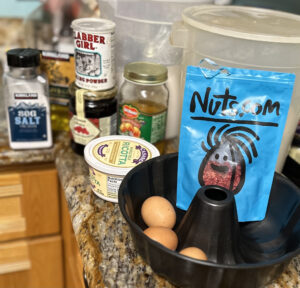 3 eggs, room temp
1 15 oz tub ricotta, room temp
1 cup sugar
1 cup olive oil
1 tsp vanilla paste*
8-10 sliced peaches from a can/jar
1/2ish cup canned/jarred sliced peaches in syrup, mashed
1 tsp salt
3 tsp baking powder
3 cups AP flour
1/4 cup freeze-dried raspberries, crushed
FOR THE GLAZE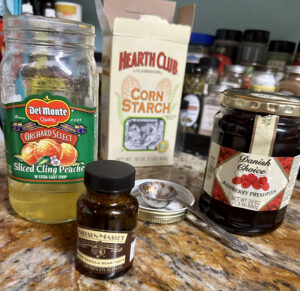 3 tbsp raspberry preserves
1/2 cup syrup from the peaches
1/2 tsp vanilla paste*
1 tsp cornstarch
1 tbsp water
1/4 cup powdered sugar
FOR THE GARNISH
about a tbsp each freeze-dried raspberries and white chocolate, curls or coarsely chopped pieces
NOTES BEFORE BEGINNING
– I use Nielsen-Massey vanilla bean paste because I view its existence as proof that the universe loves me and wants me to be happy. This is not an affiliate link, I just love the product, as well as the fact that all of their products are certified allergen- and gluten-free. If you don't have vanilla bean paste handy, vanilla extract will work for this recipe, just double the amounts shown.
– The "ish" in the 1/2 measurement for the mashed peaches came from that being the amount that was left in the jar after I used what I wanted for the first step of the cake. If you're opening a new can/jar just for this cake, use half a cup. If you are also just trying to finish some peaches, just use what you've got left for the top of the cake after you've reserved about 1/2 cup for the batter.
– I could not be bothered to haul out my stand mixer so I did this whole thing with my tiny hand mixer. It worked fine but if you have a stand mixer, obviously you can use that, and your cake will probably be better than mine was. Your happiness is the most important thing, however you find it in this recipe.
MAKE THE CAKE
– Preheat oven to 325°F. Spray a 10-cup Bundt pan with nonstick spray and arrange peach slices along the bottom.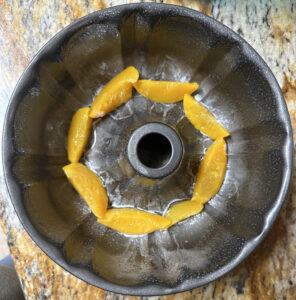 The more densely-packed, the better, because mine shifted a lot and that wouldn't have happened if I'd used more. Or if you have a Heritage pan, you can use that and it will hold your peach slices in place. Just make sure you have 1/2 a cup of peaches for the batter.
– In a large mixing bowl, combine eggs, ricotta, sugar, olive oil, vanilla paste, and mashed peaches. By "mashed" I mean "mostly squished but don't worry too much and them being fully pureed or anything because the mixer will mash them up even more as you make the batter".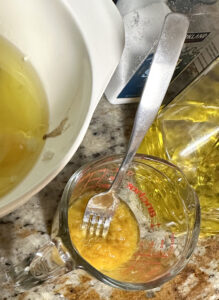 With a hand mixer on low or stand mixer on med-low, blend all of that until fully combined and slightly fluffy.
– Sift salt and baking powder into bowl, mix until combined.
– Add flour to bowl, and fold in until about halfway combined.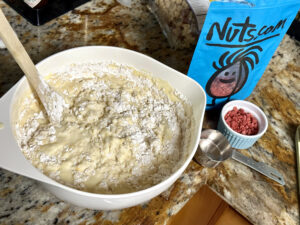 – Add crushed dried raspberries to bowl, making sure there are no huge chunks. Then continue to stir/fold just until all the flour is combined.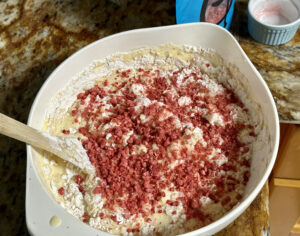 – Spread the batter into your prepared pan, being way more careful than I was to not dislodge your peach slices. Make note to self to obtain Heritage pan before next November.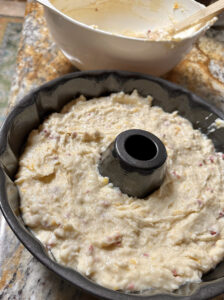 – Bake for 50-55 minutes, until top is very lightly browned and toothpick comes out mostly clean, just a few crumbs.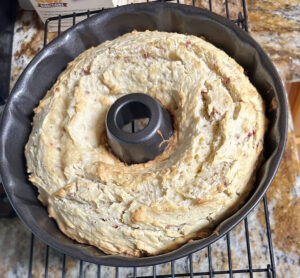 – Let cake cool in pan on a cooling rack for about 15 minutes before turning out onto rack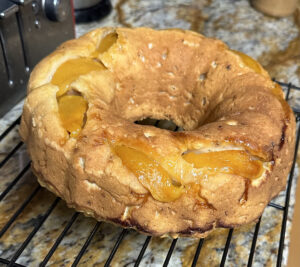 to cool the rest of the way while you lament your dislodged peach slices and
MAKE THE GLAZE
– In a small saucepan over medium-low heat, combine raspberry preserves, syrup from peaches, and vanilla paste, heating until the preserves are completely melted.
– Make a slurry with cornstarch and water. Increase heat to medium-high until raspberry mixture just starts to bubble, then add the slurry, stirring constantly until completely combined.
– Reduce heat to medium-low, and cook the glaze until the cloudiness from the cornstarch has disappeared and dragging a spoon across the bottom of the pan leaves a trail that stays visible just long enough for you to say "yep that left a trai-" and it's gone.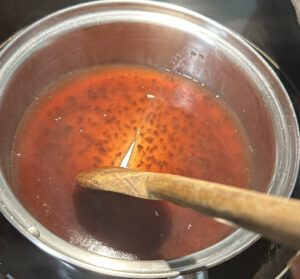 – Allow the glaze to cool to warmish (I could comfortably put my hand on the bottom of the saucepan), then add the powdered sugar and whisk until combined.
– Transfer the cake to a plate, spoon the glaze over the top, and sprinkle with crushed dried raspberries and some kind of white chocolate made small. I had some ready-made curls, but hacking at a bar until it's in pieces will work too. You just really want something that will mimic the vanilla ice cream part of a Peach Melba. I also threw on some edible glitter because glitter. I encourage you to do the same if you are a glitter sort of person. Or if you think you might be a glitter sort of person but just haven't put glitter on that many things yet. Life is to be lived.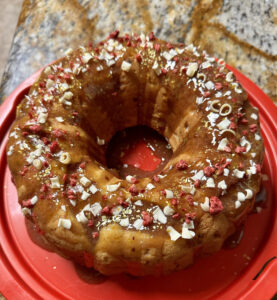 I was going to get much better pictures on a prettier cake plate that I acquired earlier this year and now have no idea where I stored it. Yet another reason to look forward to November 2024.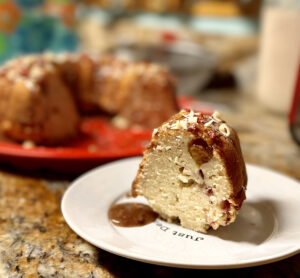 see all the Bundt posts
return to The Blog

I was here and read this!