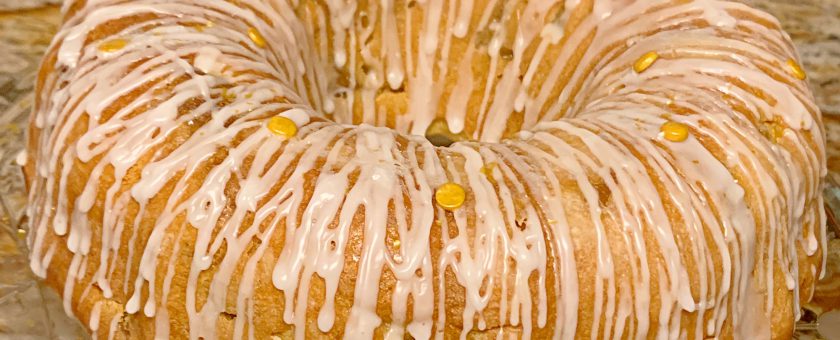 2020 / Nov / 15
The Bellini Bundt
I first observed National Bundt Cake Day in 2011, so this year marked my 10th time celebrating the day by creating an original recipe Bundt. Some have been more successful than others. Some have been amazing. Some have been downright weird. Some, like last year's, are best not spoken of.
It was Friday the 13th in 2020 when I said to myself "holy shit I need to bake a cake on the 15th" because 2020. Usually I have at least an idea of what I'm going to do for NBCD long before 48 hours prior to baking.
Flash back to July, when my sister's peach tree went insane. It wasn't happy just producing the best peaches anyone has ever tasted. It decided it wanted to produce just shy of EIGHT MILLION of the best peaches anyone has ever tasted. Three branches had broken beneath the weight of all the fruit hanging from them. We were literally stopping people in the neighborhood as they drove past begging them to take peaches off our hands. Even after giving away roughly 30 pounds of peaches, we still had more than we knew what to do with.
Which is how I found myself with three gallon-sized bags of peaches in my freezer in November. I also thought I still had a couple of bottles of Prosecco left from when I grabbed a bunch for gifts the previous winter.
So because I love them, and I've had reasonably good luck creating Bundt versions of cocktails, I decided on a Bellini Bundt.
FOR THE CAKE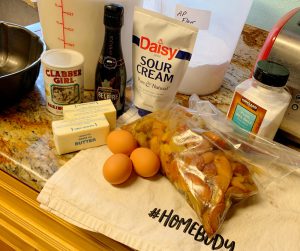 1 cup (2 sticks) unsalted butter, softened
1 1/2 cups sugar
3 eggs, room temperature
3 1/2 cups AP flour
2 tsp baking powder
1 tsp salt
4 cups peaches, frozen or canned, roughly chopped
1/4 cup dry sparkling wine (I used a brut rosé because I was wrong about having extra Prosecco, but whatever you use, make sure it's not too sweet unless you want a really sweet cake)
1 tbsp sour cream
FOR THE SYTUP
1/4 cup dry sparking wine
1/4 cup sugar
1 tbsp water
FOR THE GLAZE
1 cup powdered sugar
2 tbsp dry sparking wine
MAKE THE CAKE
Preheat oven to 325°F if using a dark pan, 350°F for light
1- Using a stand mixer with paddle attachment on high speed, cream butter and sugar until very light and fluffy, 3-4 minutes, scraping the bowl after each minute. Add eggs, one at a time, mixing until creamy and fluffy.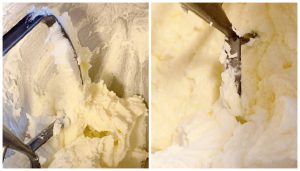 2- In a separate bowl, whisk dry ingredients together. In a small bowl or measuring cup, combine wine and sour cream.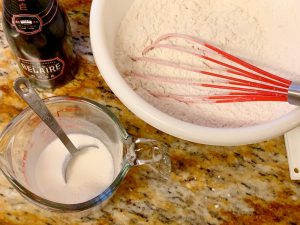 3- If you're using frozen peaches, put them in a strainer and press some of the liquid out. They don't have to be dry, you just don't want them too runny. If using canned peaches, drain and chop coarse.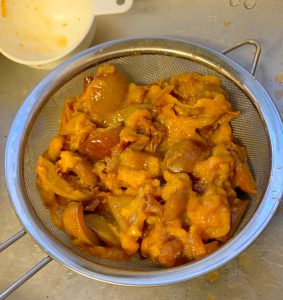 4- Add the peaches to the butter mixture and mix on high until thoroughly combined. This will look gross and smell amazing. Try not to look at it.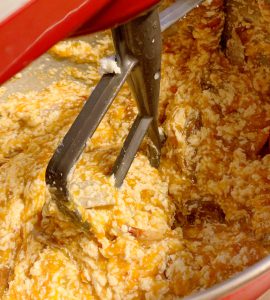 5- Reduce mixer speed to low/stir and, beginning and ending with dry, alternate adding dry ingredients and wine/sour cream mixture, making sure each is incorporated before adding the next.
6- Prep the evercrapping crap out of your cake pan. Seriously. All those peaches will want to stick. So spray it and flour it like you have never sprayed and floured a pan before in your life. Like, so much.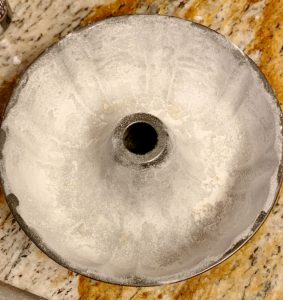 7- Spread batter evenly into pan, and bake for about 75 minutes until this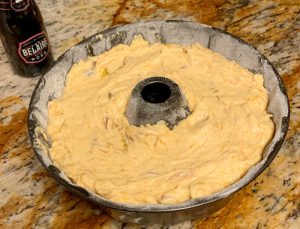 DOES NOT LOOK LIKE THIS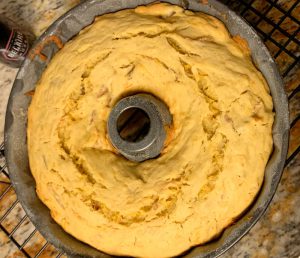 This passed the toothpick test after 60 minutes but it was not done and I should have known better than to pull it when I did. It's still delicious but it is under-baked and now I'm going to have to do crazy shit like make Bellini Bundt Cake French Toast and I don't want that for you. So wait until the top of your cake is truly golden brown, not just sort of peachy golden brown. When that happens, let it cool in the pan on a rack for about ten minutes, then turn it out and let it cool while you
MAKE THE SYRUP
Combine all ingredients in a small saucepan, bring to a boil and immediately remove from heat, stirring constantly. Let cool a bit (it doesn't have to be room temp but you should be able to touch it without burning yourself) before brushing on the cake. Get a decent layer on but don't worry if you don't use it all, you want the cake moist, not soggy.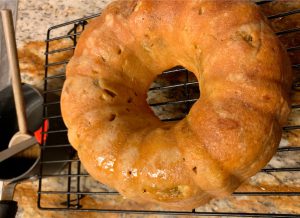 While the syrup is soaking into your cake making it all nice and moist and boozy
MAKE THE GLAZE
Put sugar and wine in a small bowl and stir until smooth. Drizzle over the top of the cake while it's still warm. We were watching Emily In Paris when I made this cake so I tried to do a sort of interpretive champagne spray style of glazing. I leave it for the viewer to decide if I succeeded.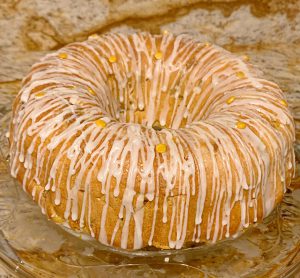 Next up: Bellini Bundt Cake French Toast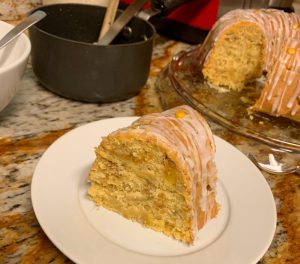 see all the Bundt posts
return to The Blog

I was here and read this!