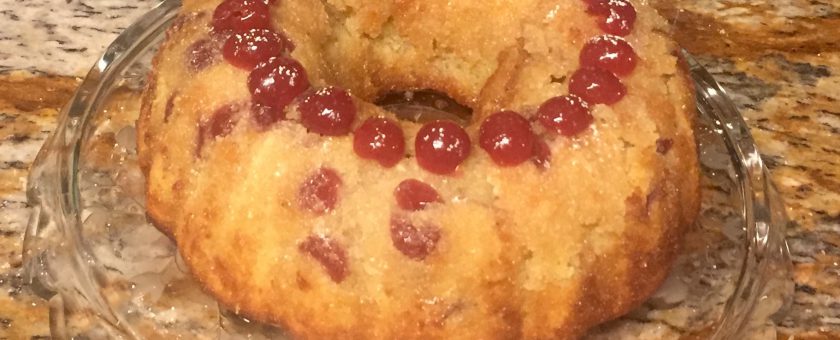 2016 / Nov / 15
The Harvey Wallbanger Bundt
I have been celebrating National Bundt Cake Day by baking an original recipe Bundt every year since 2011. 2015 was not an easy year, the streak almost came to an end, but I persevered and in 2016 headed into November with not only a perfect record but actually prepared. As in, thanks to my phone making notes for me 10 months in advance, I was reminded on November 8th that I needed to shop for the unique ingredients necessary to make the cake a friend on my Facebook page had suggested, a Bundt version of a Harvey Wallbanger.
For those not familiar with the Harvey Wallbanger, it was a hugely popular cocktail in the 70s, one of those stealthy drinks that would seriously fuck your shit up before you could say "who are you, who is this alpaca and where are my shoes?" And since I do not as a matter of course keep things like Galliano and maraschino cherries in my kitchen, the shopping was necessary and the hi-tech reminder gizmo deeply appreciated, and I went into NBCD 2016 in much better shape and mindset than the previous year.
I came out of NBCD 2016 with a serious sugar high and a semi-decent buzz. Good times.
Harvey Wallbanger Bundt Cake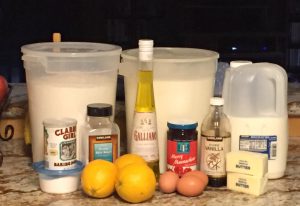 For the cake:
3 medium oranges
3 cups flour
1 tsp baking powder
1/2 tsp baking soda
1 tsp salt
3/4 cup milk
1 tbsp apple cider vinegar
1 tsp vanilla extract
1/4 cup Galliano
3 large eggs, at room temp
1 cup unsalted butter, softened
2 cups sugar
1/4 cup chopped maraschino cherries
For the glaze:
3 tbsp each vodka, Galliano, and juice from maraschino cherries
1/4 cup sugar
Halved maraschino cherries and powdered sugar for garnish, if desired
MAKE THE CAKE
Preheat oven to 350°F. Grease & flour Bundt pan.
Zest and juice oranges until you have a little over a cup of juice and a tbsp of zest.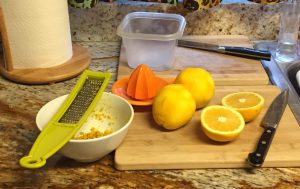 Put juice & zest in a medium bowl. Pour apple cider vinegar into a small measuring cup and add enough milk to make 3/4 cup total. Let rest for about 5 minutes, then add milk mixture, Galliano, and vanilla extract to the bowl with the juice and zest.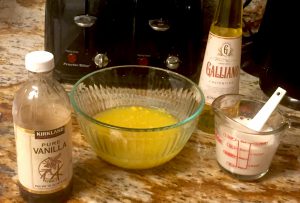 In another medium bowl, whisk together flour, baking powder, baking soda, and salt.
Using a stand mixer on medium-high, cream butter and sugar until fluffy. Reduce speed to medium and eggs one at a time, mixing until just blended. Reduce speed to low and alternate adding dry ingredients and liquid ingredients, beginning and ending with dry.
Remove bowl from mixer and gently fold in chopped maraschino cherries.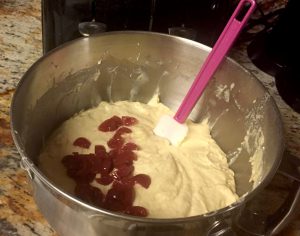 Pour mixture into prepared pan and bake for 40-45 minutes, until top is golden brown and cake feels firm.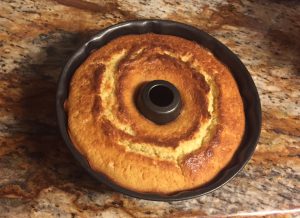 Cool in pan for about 10 minutes, then turn out onto cooling rack. When cake feels comfortably warm, make the glaze.
MAKE THE GLAZE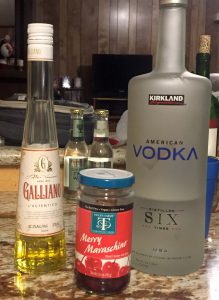 Mix all ingredients in a small non-aluminum saucepan. Bring to a boil and cook until all sugar is dissolved. Remove from heat and keep stirring as it cools. When it reaches close to room temp, it should be about the consistency of maple syrup. This is not a decorative glaze so much as a syrup that's meant to soak into the cake to make it boozy and amazing.
PUT IT ALL TOGETHER
Move cake from cooling rack onto plate. Pour glaze generously all over it. If you are using halved cherries for garnish, put them on a paper towel first and gently press some of the moisture out of them so they don't make the top of the cake soggy. Then arrange them however they make you happiest, and give the whole thing a light dusting of powdered sugar for the pretty of it.
This will be all right stored covered at room temp for about 24 hours. If you don't finish it within that time, you'll need to move it to the fridge. But it's entirely possible you'll want to finish it within that time, and we do not judge you for that.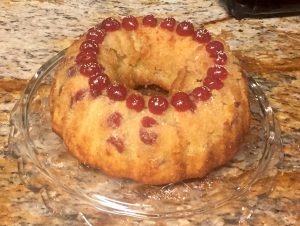 see all the Bundt posts
return to The Blog

1 person read this post.