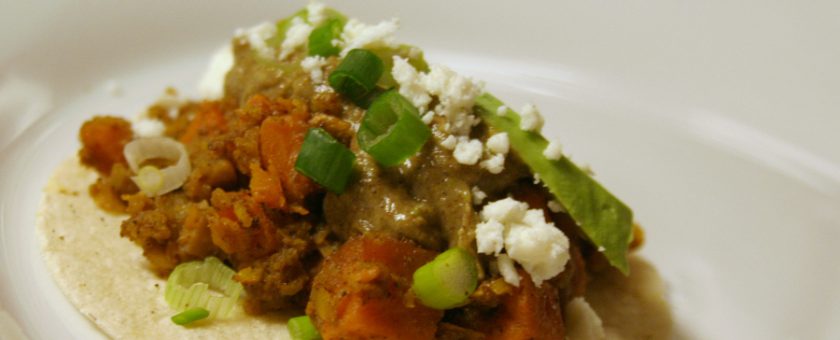 2019 / Nov / 13
Pumpkin Spice Tacos
At the beginning of PSL Season, a bunch of people started reposting this: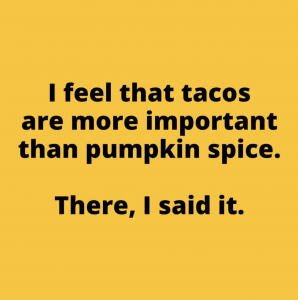 and being the person I am, I took it as a challenge. Imperfect was offering sugar pumpkins right around the same time.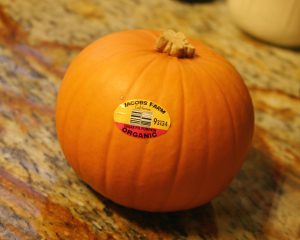 The Universe was sending me a pretty clear message. If I did nothing else with my life, I needed to make pumpkin spice tacos.
Hopefully I won't die now, but I guess I can?
PUMPKIN SPICE TACOS
Serves 4 (16 street taco size)
(To make fully vegan, just swap vegan Cotija for the dairy)
FOR THE FILLING
• 2 cups peeled & grated sugar pumpkin
• 1 medium sweet potato, peeled and cubed (about 1 1/2 cups)
• 1/2 to 1 cup coarsely chopped walnut (for texture, I used 1/2 cup but will use more next time, if you prefer a softer filling stick with 1/2 cup)
• 1/4 olive oil
• 2 tsp cumin
• 1 tsp each salt, cinnamon, allspice
• 1/2 tsp each cayenne, nutmeg, clove
FOR THE AVOCADO CREAM
• 1 medium avocado
• 1 tbsp soy milk
• 1 tsp each lemon juice, cinnamon, allspice
• 1/2 tsp salt
FOR THE ASSEMBLING
• 16 street taco size corn tortillas
• sliced avocado
• chopped green onion
• crumbled Cotija
MAKE THE FILLING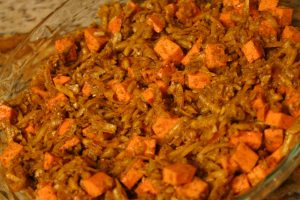 Preheat oven to 400°F. While the oven is heating, peel & grate your pumpkin. Don't be a hero. If you have a grater attachment for your mixer, use it. I got a little over 4 cups grated from one average-sized sugar pumpkin, throw the rest in the freezer to use for something else later. Pretty sure I'm going to use mine to try this recipe. But that's another story for another time. Peel your sweet potato and chop into 1/2 inch cubes, give your walnuts a quick chop, and throw all the filling ingredients into a bowl, stirring well to coat evenly. Spread mixture into a shallow baking dish and bake for 15-20 minutes, until sweet potato is tender. While that's baking…
MAKE THE AVOCADO CREAM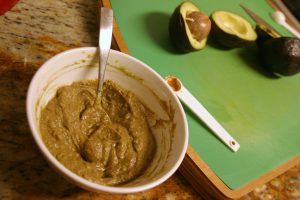 In a small bowl, mash avocado until smooth, then stir in remaining ingredients. You still have some time while your filling is baking, so prep…
FOR THE ASSEMBLING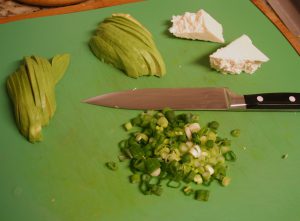 If you have a stoneware baking sheet, put it in the oven to preheat as soon as your filling comes out, then right before you're ready to plate, throw the tortillas on it and let them heat for 2-3 minutes. Otherwise, use a cookie sheet and let them heat for 4-5 minutes.
Slice your avocado thin, chop your onion finely, crumble your Cotija as big or small as you like (but smaller tends to work better on tiny tacos). For each taco, place about 2 tbsp of filling on a tortilla, and top with a small dollop of avocado cream, a slice of avocado, and sprinkles of green onion and cheese to taste.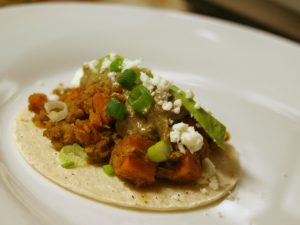 Go ahead. Call me crazy. These things are frikkin' delicious.

I was here and read this!