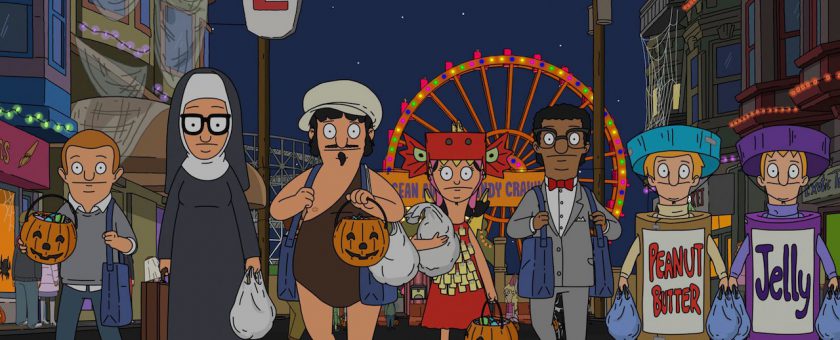 2018 / Oct / 31
My Bloody Kale-entine with Sourdough Caulifritters
In pursuit of my wild dream of feeling like a full-fledged adult maybe sometime before my 50th birthday, I've been purchasing tools to help me do adult things like plan meals more than 20 minutes in advance of eating them. Like this nifty fridge magnet. Some weeks, it looks like this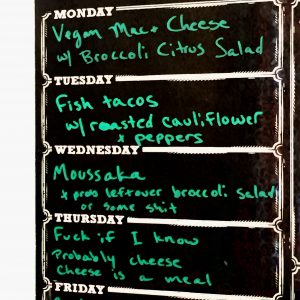 but then there are other better weeks when I plan 7 entire meals with lots of veggies and then actually cook them all and feel terrifyingly mature and know it can't possibly be sustainable but I try to enjoy the moment.
Last week as I was writing up the menu, I thought it would be fun to do a Bob's Burgers night, creating the Burger of the Day from the most recent Hallowe'en episode, on Hallowe'en. Then I had a jolly laugh at my follyful self when I thought of not only cooking an entire meal but attempting to create an original recipe and write things down and take pictures of the process all while Trick-or-Treaters were ringing the doorbell and my dogs were consequently losing their shit every five minutes, and decided to make the burger over the weekend, then just post it on Hallowe'en. And now it's 1:30 on Hallowe'en as I begin to type, thanks to this.
But, this is me moving on. And I know give to you my interpretation of the Burger of the Day from Nightmare on Ocean Avenue Street…
MY BLOODY KALE-ENTINE
A double-decker burger with cheddar cheese, candied bacon, and Bloody Kale, served on a toasted ciabatta roll. I used chicken patties because I had some that needed to be used, but beef or veggie patties would also be delicious.
The Bloody Kale is made bloody by spicy beet ketchup, which is made from throwing the following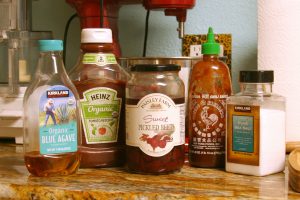 1/2 cup sweet pickled beets
2 tbsp ketchup
1 tbsp sriracha
1 tsp salt
2 tsp agave
into a blender and pureeing until smooth and lovely and ketchup-like. I can't lie, one of the reasons I wanted to make this ketchup is I just got a new blender and I really wanted to try it out. It's a bit scary and my old blender really wants to go live somewhere else with a new family now.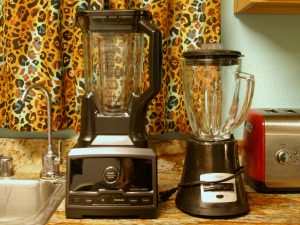 Anyway, there's your spicy beet ketchup. Now wash/pat dry/coarsely tear about 2 cups of kale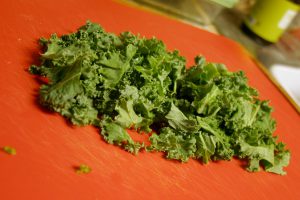 put it in a bowl with a sprinkle of salt and a drizzle of olive oil, and get ready for me to tell you all about the thing I thought was some crazy hipster bullshit until I actually did it and my whole life changed. You need to massage your kale. I genuinely have no words for the difference this makes. I wanted to not believe. I wanted "you need to massage your kale" to be right there with "you really can't tell the difference between carob and chocolate" but it isn't, it is true and real and magical. So get your hands in that bowl and just squishysquash your kale with the oil and salt for about a minute until you feel it relax. Relaxed kale is delicious kale.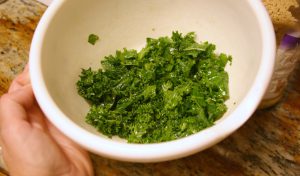 Add a tsp of minced garlic and half of the ketchup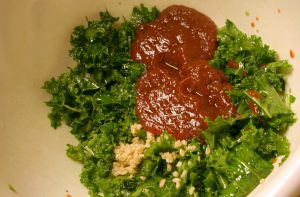 stir to coat evenly, and set aside.
Now for the candied bacon because it's not Hallowe'en without candy, right? If you've never candied bacon before, neither had I until The Disgusting Beautiful Garbage Angel and it's stupid easy to do so get ready to do it all the time. Put a silpat on a baking sheet, lay out your bacon (I use turkey), sprinkle it with a bit of brown sugar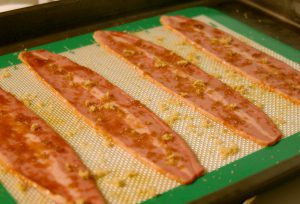 and bake at 400°F until the edges are juuuuust shy of burnt, 8-10 minutes.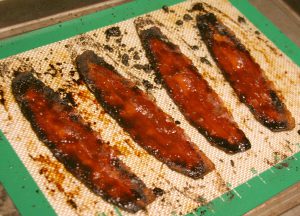 It will feel flexy but don't worry, as the sugar cools it will get crunchy.
While your bacon is cooling, slice and toast your buns, and cook your choice of patties to your desired degree of doneness, topping each with a slice of cheddar cheese about a minute before the end of the cook time so it can get melty. When all your elements are ready…
THE STACK
Bottom buns with remaining spicy ketchup divided between them. First patty, cheese side up. Candied bacon. Second patty, cheese side down to glue the bacon on place. Half the Bloody Kale on each burger.

SOURDOUGH CAULIFRITTERS
In addition to the lovely bunch of Imperfect kale I had in the fridge, I'd somehow found myself with a surplus of Imperfect cauliflower, and also my sourdough starter needed exercise. So I decided to make a thing. The thing was moderately successful. I tried to keep these fritters on the healthy side by baking them, and it almost worked. The flavor is great, but the texture could be improved. I have a bit of the batter left, and I think I will try a more traditional fried fritter with it. In the interests of science and accurate record-keeping, I will post my first attempt here.
1 head cauliflower, riced (about 4 cups)
2 tsp each salt, black pepper, and onion powder
1/2 cup sourdough starter
1/4 cup olive oil
1 cup AP flour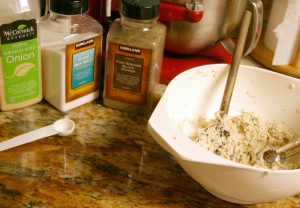 Stir all of this together, scoop out blobs onto a baking sheet, and bake at 400°F until lightly browned and crisp on the bottom, about 25 minutes. Serve with Ranch dressing.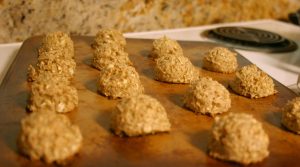 NOTES:
1- Definitely need to fine-tune caulifritters but the potential is great
2- Will be eating much Bloody Kale in the future because that shit is amazing
3- Still scared of new blender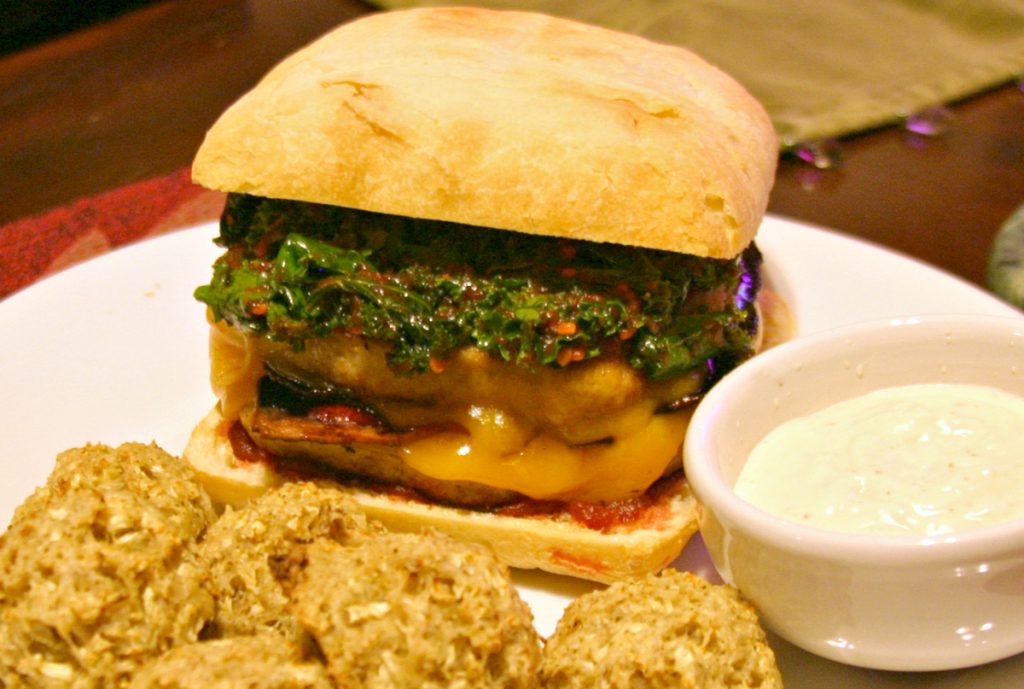 see all the Bob's Burgers posts
return to The Blog

I was here and read this!