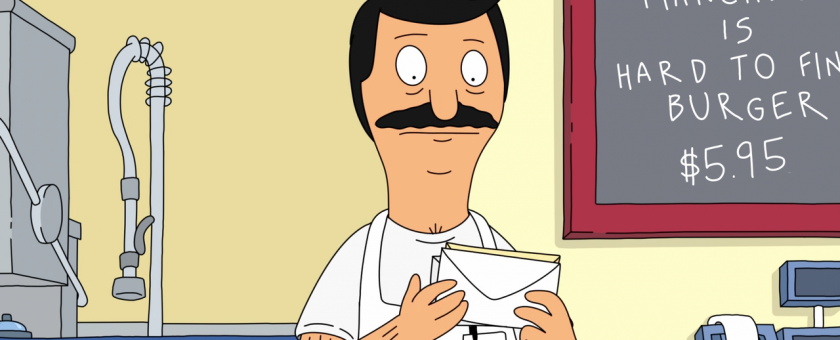 2018 / Jan / 05
A Good Manchego is Hard to Find
Completing the last of what little holiday shopping I do invariably lands me at a bookstore. My family exchanges books, always has, always will. I got about nine this past December, including a stack of cozy mysteries, Black Wave which I've wanted to read since one of my sisters raved so hard about it a year ago, and Rasika: Flavors of India which I am going to have all kinds of fun with, fun I shall post about right here on this very blog.
This year, as I was finding goodies for my loved ones, my eye fell upon something I have wanted ever since it was released. That thing was The Bob's Burgers Burger Book.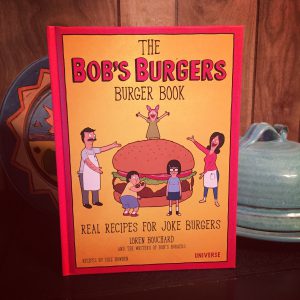 And I said to myself, "Self, are you too not one of your own loved ones? Are you not deserving of the same gestures of affection you show to others? And have these past few months not been a deeply shittified dumpster fire of fuckuppery that a small treat would perhaps mitigate to at least some slight degree?"
The answer to all of those questions was a resounding YES. The answer to all of those questions was also the only part of the conversation that took place out loud, so I'm pretty sure I can go back to that Barnes & Noble next year. And so it came to pass that TBBBB came home with me, and one of my goals for 2018 became to make as many as possible of the recipes contained therein.
AND SO IT BEGINS
A cast iron grill pan has been on my list of things to add to the kitchen, and I took it as a sign that this project was indeed blessed by some force of greater good that the one I ordered arrived mere hours before I planned to cook my first burger.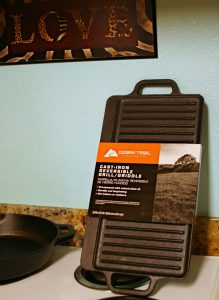 I chose A Good Manchego is Hard to Find, a burger topped with manchego, caramelized shallots, and fig jam, for a few reasons. First and foremost because, after a decade of being married in every possible way other than the piece of paper, The Guy & I had just celebrated our 10th anniversary by getting the piece of paper, and I wanted to celebrate finding my good man(chego) even though I had done the actual finding a very long time ago but now it was like he was found found, like superfound, found for good and all, completely unable to escape my clutches. Second, I had a distant but distinct recollection of a jar in my pantry that was something like fig jam. Third, I had been looking for an excuse to buy a large wedge of manchego from Costco because Costco cheese. All the Costco cheese.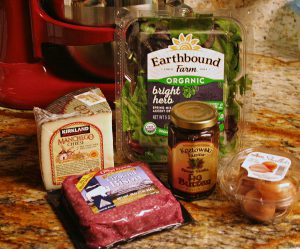 I used ground bison instead of beef because I love not only the flavor but the slight nutritional advantage of bison burgers. What I recalled being something like fig jam in my pantry was in fact fig butter, which is not as gooey as jam and that lack of gooeyness will be compensated for in future preparations. Didn't feel like going anywhere other than where I was already shopping so an herbs-and-greens mix that contained arugula became the arugula specified in the recipe.
Speaking of the recipe, I would like to take this opportunity to thank TBBBB for not lying about how long it takes to caramelize shallots because SERIOUSLY ALL YOU OTHER RECIPES THAT SAY IT TAKES FIVE MINUTES WHY DO YOU SAY THAT IT IS A LIE THAT DOES NO ONE ANY GOOD AND JUST MAKES PEOPLE QUESTION THEIR ALLIUM-CARAMELIZING ABILITIES AND EVERYTHING ELSE IN THEIR CULINARY LIVES THEN WE GET INSECURE AND GIVE UP AND YES IT IS ALL YOUR FAULT. So yeah, 20 minutes easy but well worth the time.
In addition to my metaphorically-shiny new grill pan, I took this opportunity to break out for its inaugural run the French Fry Cutter I purchased from a friend's "My Kid Is Selling Stuff For School So Buy The Stuff Unless You Hate Kids" fundraiser.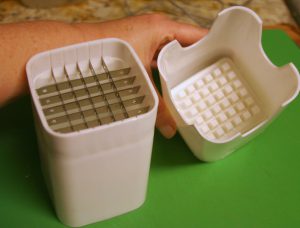 I feared its first run might also be its last because holymotheroftitballs this thing wants to be leaned on like you have never leaned on anything in your life. I will get video next time. This time, I was happy to come out the other side with my countertop and shoulders intact, and a pile of what I must grudgingly acknowledge were indeed beautifully-cut fries. Which I baked because, in addition to my burger-making goals, we have some silly health goals for 2018 like "lose weight" and "don't die". Spread your cut potatoes on a sheet pan, sprinkle with salt, drizzle with about a tablespoon of olive oil, toss to coat evenly, and bake at 425°F for 15-20 minutes. They are delightful and considerably less fat-laden than fried fries.
With the aforementioned health goals in mind, there was a vegetable side on the plate, which I have dubbed…
A GOOD MANCHEGO MAY BE HARD TO FIND BUT IT MUSTARD BEEN LOVE BECAUSE I GOT ZUC BABE, YOU ARE MY HONEY AND I'M A LUCKY GA(R)L(IC)
Cut a medium zucchini into small planks, sprinkle with salt. When you have removed your caramelized shallots from the pan and there's still traces of buttery shalloty goodness therein, add to the pan a glug of olive oil, about a tablespoon of honey mustard, and a blob of minced garlic. Stir over medium heat until combined, throw in the zucchini, stir to coat and cook for 5-7 minutes until heated through but still firm.
The final plate looked like this: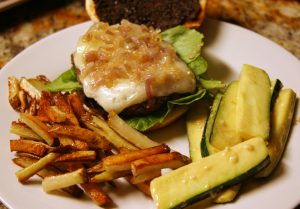 and tasted almost as good as it looked. The new grill pan and I definitely need to get a bit more familiar with each other. The fig butter will likely be mixed with the caramelized shallots next time, or perhaps turned into a fig butter aioli of some sort, to compensate for its lack of gooeyness. And the patties need to be bigger, or there need to be two of them. I was trying to be good by only making single 1/4 lb. patties. That was a mistake.
But overall, it was a good start to my Bob's Burgers year.


see all the Bob's Burgers posts
return to The Blog

2 people read this post.