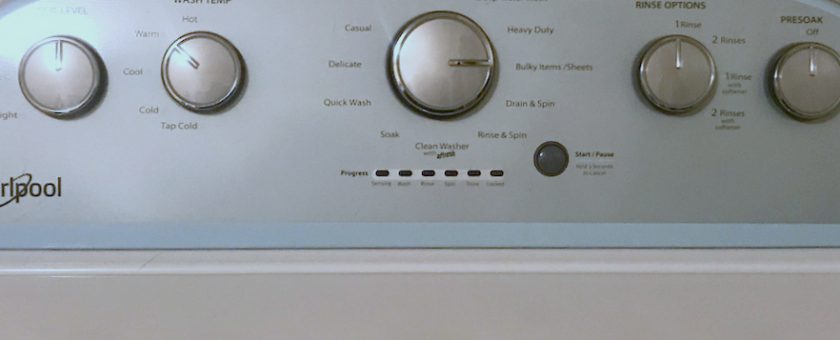 2020 / May / 12
Adventures in Lockdown: That Time the Washer Caught Fire
There have been times during our shelter-in-place adventure when I've been really good about staying on top of laundry and housework. Most of early May was not any of those times.
I woke up on the morning of Saturday, May the 9th, determined to catch up on all I'd let slide. I stripped the linens from the bed, put the first of the pillows in the washer and mentally formed a plan of attack for the rest of the chores as I sorted the contents of the hamper.
I was going to be an unstoppable adulting machine, if only for that one day.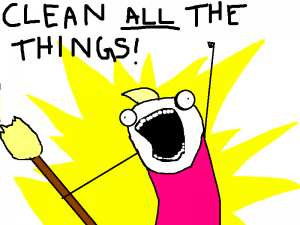 The first pillows finished uneventfully, were moved to the dryer, and the second pillows went into the washer while I turned my attention to other chores.
One of the things I needed to do that day was let my mom know if I needed anything from Costco. She's discovered that if she gets there at 7:45 on Sunday mornings, she can be done and home by 9:00, so she declines company and asks that my sister and I just give her lists. There was one small thing, a want rather than a need but it was small and lightweight and she was going to be there anyway so I called her.
And as soon as she answered, said "I HAVE TO CALL YOU BACK I LOVE YOU BYE" and hung up following that with "HONEY I NEED YOU TO COME HERE RIGHT NOW" because the laundry room was filled with smoke.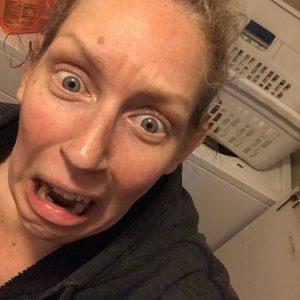 No sooner had I finished screeching the demand that my husband drop anything he might be doing and immediately cleave to my side that the first of the smoke alarms went off. Followed by the second. Then the third.
We have a total of five smoke alarms in the house. They all went off. But not simultaneously. Had they been synchronized, the split seconds of silence between blasts might possibly have allowed us to gather our thoughts and hasten the pinpointing of the smoke source.
Instead, it was like 1800 square feet of seven-layer dip where five of the layers are made of terrible sounds and the other two layers are made of smoke and your dogs hate you.
Hubs unplugged the washer and dryer while I ran around opening every door and window in the house. There was an instant of terror when we thought something was on fire in the garage, but thankfully(?) the source of the smoke proved to be the laundry room.
Once the smoke dissipated enough that the alarms quieted down and we were able to get the dogs out from under furniture, the first thing I did was pull the lint filter from the dryer. Clear. Opened the dryer door. Smoke billowed out. "There's our culprit."
As far as "why is the house suddenly full of smoke?" situations go, a dryer producing said smoke without visible flames is about as good as they get. As far as appliances needing repair in the middle of a situation where having strangers in your home is risky at best, dryers are also about as good as it gets. It's a metal box with a motor and a heater. I said to Hubs "can you fix it?" and he replied "yes, yes I can."
Still shaken and in tears, I called my mom back to explain why I'd terminated our previous conversation so abruptly and give her my Costco request. It came out something like this:
"Dryer fire (hic) scary sad sourdough crackers (sob) in the red box if they have them and if they don't it's okay (sniffle) because I have other crackers but I just like those ones (wail) so muuuuuuuch (shaky breath) I love you"
To which she replied "if they have them I'll get two" because my mother is a goddamn angel and these were at my house the next morning.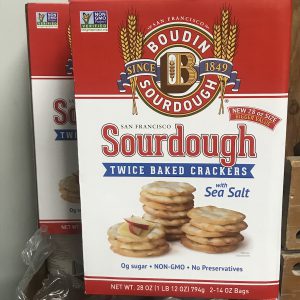 But before we got to then, we had to fix a dryer.
We plugged the washer back in to let it finish rinsing and draining. Before long, it made a sound.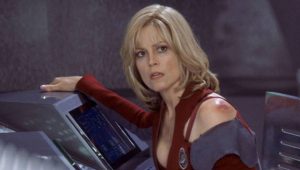 I didn't know that sound but it was a bad sound. "It's never made that sound before" I said to my future appliance repairman.
And sure enough, the laundry room began filling with smoke again and the smoke that had billowed out of the dryer had been pulled in from behind the dryer and had actually come from the washer.
I said to Hubs "can you fix it?" and he replied "…maybe?"
So after I transferred waterlogged pillows to the bathtub and emptied as much water out of the washer as I could, I grabbed the owner's manual and tried to track down replacement parts.
There is a model number printed plain as day on the front of the manual. I guess I'm a very special kind of idiot to assume even for a moment that model number might actually be the model number of the washing machine for which the manual was written.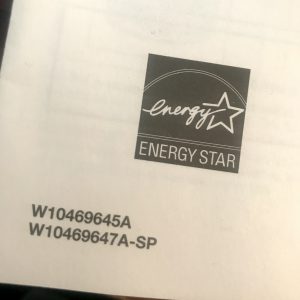 After about 15 minutes of fruitless internetting, I told my husband "these parts don't seem to exist so we might be getting a new washer".
He took over the search as I went about trying to salvage some of my chore-doing motivation. I got the pillows wrung out enough to go in the dryer. I hand-washed the pillowcases. I had a really pissy internal conversation with the universe about being punished for wanting to behave like a responsible adult and seriously shit caught fire when all I wanted to do was clean my house?
I then saw Hubs trying to do a thing with his phone and his hand inside the washing machine with the lid closed.
Funny story: the model number on the front of the manual is the model number for the manual. Not the washer. THE MANUAL.
The model number for the actual washer itself was on a plate behind the lid of the washer and was only visible from the inside of the washer when the lid was closed. Hence Hubs' arm/phone/washer/limbo antics.
After a far more successful bout of internetting than I'd experienced, he tracked down what we thought would be the necessary parts; the gearbox that had seized, and the motor that had burned out trying to move the gearbox.
These parts were not cheap. We had only a pretty sure notion these specific parts were actually the problem. Working on washers is far more complicated than working on dryers, and Hubs was only mostly certain he'd be able to complete the repairs successfully. If he wasn't able, we'd still be faced with the risk and additional expense of having a repairman in the house.
Or for about 30% more than just the cost of the parts, we could get a new washer.
Many of the appliances available online were showing delivery dates of 2-3 weeks out. Some were backordered until July. I have family nearby enough that I could manage an alternate laundry situation for a couple of weeks, but July was pushing it a bit. Eventually I found the newer model of my existing washer on the Lowe's website. It didn't show an estimated delivery date, just that they would let me know availability after I completed my purchase. But they would bring it to my driveway and haul my old machine from my driveway, so I said "okay, I'm gonna order it and if the delivery date is too far out I'll just cancel".
The confirmation email for my purchase came through at 3:16 p.m. on May 9th, showing my delivery date set for sometime between the hours of 11:00 a.m. and 11:00 p.m. on May 10th.
Not only the next day, but on a Sunday. About an hour later, that window was narrowed to between 5:30 and 9:30 p.m.
There have been about 16 occasions since we bought our house that we've said "do we know anyone who has a dolly?" so we decided before we had to haul a washer out to the driveway and another washer into the house, we should become those people. A moderately uneventful trip to the hardware store later, this lived at our house.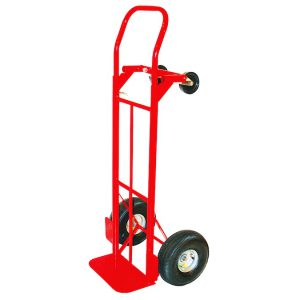 And it was a good thing we decided to not wait until the next day to run that errand because at 10:15 the next morning, we got a call saying the washer would be there in about an hour.
Barely 21 hours after I ordered it, my new washer was in my house, hooked up by Hubs, and working on all the laundry I'd wanted to do the day before.
Almost like the 7-layer-dip-of-shit day never happened.
Except it did, and it will be a long while before I stop feeling profoundly grateful it wasn't so much worse. My house didn't burn down. No one got hurt. I didn't even have to bring my laundry anywhere.
I've since washed pretty much every washable item in the house as tribute to the Lowe's Laundry Spirits of Next Day Delivery. My favorite part of the new machine is that it's practically identical to the old machine.
Hubs' favorite part of the new machine is that "it sounds more sci-fi-y".
And we've both since been forgiven by the dogs.


return to The Blog

I was here and read this!