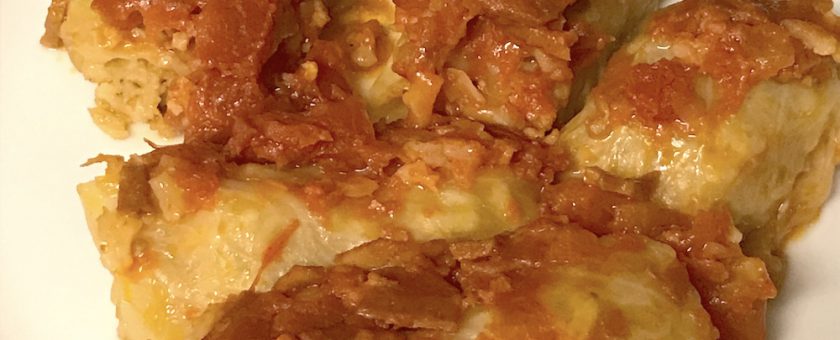 2020 / Apr / 13
Cabbage Rolls are Polish Tacos
Once upon a time it was last Tuesday and I had an Imperfect cabbage so instead of making tacos I made this plant-based version of a meat thing my mom used to make for us.
Apologies for the lack of process photos, I wasn't planning on blogging this because I didn't realize just how frikkin' delicious it would prove to be. I should not have underestimated my genius.
VEGAN GOLABKI
– a cabbage
– 1/2 cup long-grain white rice
– 3/4 cup water
– a mediumish yellow onion, diced, divided
– a glug of olive oil
– a 15 oz can of tomato sauce
– those 3 tomatoes on your counter that you really need to use today, diced, or a 14 oz can of diced tomatoes, drained
– salt, pepper, and a couple of bay leaves
– a pound of Pure Farmland Simply Seasoned Protein Starter
– half a package of Upton's Naturals bacon seitan, chopped coarse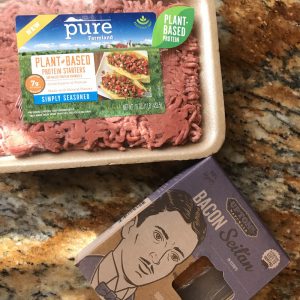 1- Preheat oven to 350°F
2- In a small saucepan, bring rice, water, and a dash of salt to a boil, reduce heat to low, cover and cook for 15 minutes. It will seem a bit undercooked and that's fine. Uncover and let cool.
3- While the rice is cooking, prep your cabbage. Bring a stockpot of salted water to a boil. Cut out the core of the of the cabbage and run hot water over it to loosen the leaves. You'll want 12-14 leaves. Once you've peeled those off, throw them in the pot and boil for 3-4 minutes, until softened. Drain and rinse with cold water.
NOTE: You will have extra cabbage. It will make a delightful slaw if you want to save it for another meal. If you're of the "no I'm making this specific thing right now because I want to use up this entire cabbage RIGHT NOW and not think about planning another meal around cabbage at any point in the near future" school of thought, coarsely chop what's left of your cabbage, spread it over the bottom of a 9×13 baking dish, and sprinkle it with salt.
4- In a large skillet over medium-high heat, cook half of the onion and the chopped bacon seitan in olive oil until the onion is translucent, 5-6 minutes. Reduce heat to medium. Add tomato sauce, tomatoes, bay leaves, and generous sprinkles of salt & pepper. Let cook for about 15 minutes, stirring occasionally.
5- In a mixing bowl, combine cooked rice, the other half of the diced onion, the Protein Starter, and salt & pepper to taste.
6- Retrieve your cabbage leaves. If you want larger rolls, cut out about an inch of the center vein from the bottom of the leaves. If you want smaller rolls, slice the leaves in half down the center around the wide part of the vein.
7- For the small rolls I made, I used a generous tbsp of filling placed at the end of a leaf then rolled. For large rolls, use about 1/4 of filling closer to the center of the leaf and wrap/roll the cabbage around it. Place the rolls seam side down in the previously-mentioned 9×13 baking dish. If you have a bit of leftover filling like I did, stir it into the sauce.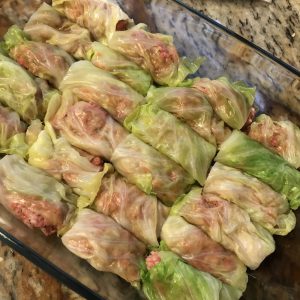 8- Remove bay leaves from the sauce and spread it out evenly over the rolls. Cover dish with foil and bake for 45 minutes.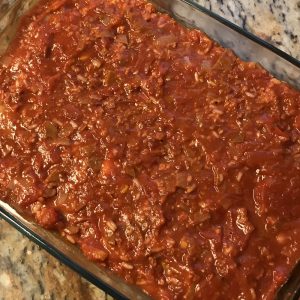 9- Uncover and let stand for 5 minutes before serving.
Leftovers will keep in the fridge for a few days, or this freezes beautifully for that one time 2 weeks from now when the very thought of cooking is abhorrent but you really want comfort food. Or there are no leftovers and we do not judge that.

I was here and read this!